Home – Introduction – Operational Verification – Exterior – Interior – Boot – Engine
MK V Exterior
Body, Doors, Bonnet, Boot Lid, Painted Bumpers & Grilles
Paint Finish
Glass, Headlamp Covers, & Lamp Lenses
Chrome & Stainless (Incl. Accessories, Tailpipes & Resonators)
Hood, Hood Env., Side Curtains, Tonneau (OTS/DHC, XJ6C/XJ12C/XJ-SC Only – No Saloons)
→Wheels (Wire, Disc, Alloy, Chrome, Painted)
Tires
Wheels
Wire
The Mark V model are not fitted with wire wheels
Disc
The Mark V model are fitted with disc (pressed steel) wheels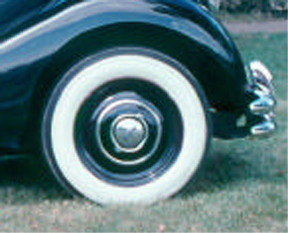 The MK V is fitted with Pressed Steel Wheels
Alloy
Alloy – The Mark V models are not fitted with alloy wheels.
Chrome
The Mark V model are not fitted with chrome wheel rims.
Painted
The wheel, and recessed areas of  the hub cap, are painted body color. If the car is two-tone, then the hub cap should be painted the same color as the wing.
Body, Doors, Bonnet, Boot Lid, Painted Bumpers & Grilles
Paint Finish
Glass, Headlamp Covers, & Lamp Lenses
Chrome & Stainless (Incl. Accessories, Tailpipes & Resonators)
Hood, Hood Env., Side Curtains, Tonneau (OTS/DHC, XJ6C/XJ12C/XJ-SC Only – No Saloons)
→Wheels (Wire, Disc, Alloy, Chrome, Painted)
Tires
Home – Introduction – Operational Verification – Exterior – Interior – Boot – Engine