Home – Introduction – Operational Verification – Exterior – Interior – Boot – Engine
MK V Exterior
Body, Doors, Bonnet, Boot Lid, Painted Bumpers & Grilles
→Paint Finish
Glass, Headlamp Covers, & Lamp Lenses
Chrome & Stainless (Incl. Accessories, Tailpipes & Resonators)
Hood, Hood Env., Side Curtains, Tonneau  (OTS/DHC, XJ6C/XJ12C/XJ-SC Only – No Saloons)
Wheels (Wire, Disc, Alloy, Chrome, Painted)
Tires
Paint Finish
I need a clear jpg image of the color chart
These ten colors were listed in the original sales brochures. These color images were copied and cropped from photos of an original 1949-50 color sample wheel, except pastel green metallic, which was cropped from a photo of a Mark VII. They are offered as approximations of the original colors, but due to variables in photographic and electronic color reproduction, should not be interpreted as unimpeachable authority.
Besides the ten colors above, cream and silver were used, as they were offered on the concurrent XK120.
No MK V's were produced in red, although it was also offered on the XK120. (Crouch) The factory brochure stated that painting and/or upholstering a car to the customer's special request would only be done at extra cost. (Sales1) Only 34 cars are known to have been produced in non-standard colors. (Crouch) Some of these such as twilight blue may have been Lyons experimenting on new ideas for the Mark VII. However,  the carpets, carpet bindings, upholstery piping and zippers on the saloon door pockets were only supplied in standard colors. (Sales1) Original color schemes may be confirmed by a Jaguar Daimler Heritage Trust Certificate.
Original pale blue upholstery with a contrasting medium blue color piping has been seen. (Reilly) Only two cars were painted by the factory in a two-tone paint scheme, one being a DHC in suede green with black wings, and the other being a saloon in red and white. (Crouch) All others were painted in a single color.
For certain countries such as New Zealand and possibly Belgium and Ireland, approximately eighty-five Mark Vs were sent in what is recorded as CKD finish, and nine are recorded as being in primer, meaning the receiving distributor would finish the cars locally. (Crouch)
The Mark V styling lends itself to a two-tone paint scheme, thus some such cars may have been created by the first dealers, and many restored examples are seen, but these should not be taken as original. Special single colors should not be judged original without factory documentation.
Fenders (wings) were painted body color inside and out, but the separate lower valences attached by screws to the front wings were painted gloss black.
The main body was painted body color including the scuttle and down to the bottom below the fender attachment line and the rear inner fender areas and fuel filler box, but the underside was apparently only red primer or black or undercoating. The doors and boot lid were attached beforehand, so body color paint on the hinges and hinge bolts is correct.
Paint Color Combinations
For the two MK Vs that were painted two-tone, the correct paint scheme should have the sides only painted a different color.
The wheels and recessed portion of the nave plates are painted the same color as the wings.
Incorrect paint scheme with top of bonnet being the same color as the sides. Wheels are incorrect matching side panels

Note: The sunroof should be metal and be the same color as the head (roof)

Wheels are incorrect matching side panels instead of wings
Solid Colors are Correct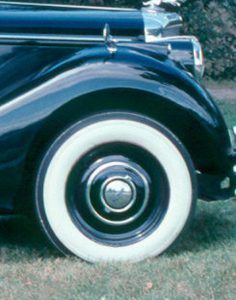 The Nave Plates ( hub caps) should have the recessed area painted body color.
Body Trimming Notes
Need Photo
There should be closed cell foam rubber and moquette covered edge trim around the door openings.
Wiper Blades
Need Photo
The single-piece stiff-backed wiper blades should be 10 inches long, with a single rubber blade. They are mounted to chrome plated metal wiper blade arms.
Fender Welting/Fender Beading
There should be ¼" cord wrapped Rexine body color piping in the joints between the wings and body, between the wings and bonnet side panels.
Body, Doors, Bonnet, Boot Lid, Painted Bumpers & Grilles
→Paint Finish
Glass, Headlamp Covers, & Lamp Lenses
Chrome & Stainless (Incl. Accessories, Tailpipes & Resonators)
Hood, Hood Env., Side Curtains, Tonneau (OTS/DHC, XJ6C/XJ12C/XJ-SC Only – No Saloons)
Wheels (Wire, Disc, Alloy, Chrome, Painted)
Tires
Home – Introduction – Operational Verification – Exterior – Interior – Boot – Engine