Home – Introduction – Operational Verification – Exterior – Interior – Boot – Engine
MK V Interior
Woodwork, Vinyl & Leather (except seats)
Headliner, Underside of Hood, Door Panels & Arm Rests
Door Jambs, Sills, Shut & Hinge Faces, Rubber Seals, & Wire Conduits
Carpets
→Hardware, Steering Wheel, & Instruments
Seats, Squabs & Belts
Hardware
Pedals
Gear Shift Lever
The Gear Selector Lever is chrome and is either straight or with a forward bend.
Gear Selector Knob
| | |
| --- | --- |
| | |
| Gear Selector Knob with RAISED numbers | Gear Selector Knob with RECESSED numbers |
Brake Lever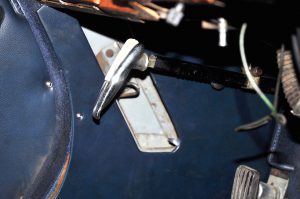 The umbrella-grip style emergency brake handle is located below the facia by the left side kick panel.
Door Handles
The Saloon interior door handle has the Pull-Triger type of opener located under the non-movable grab handle.

The saloon does not have a chrome cover plate on the latching mechanism.

The Drop Head Coupe has the Push-Away-to-Open style of interior door handle.
Door Latch
| | |
| --- | --- |
| | |
| | The DHC door latch wedge shaped strikers should be painted body color. |
Steering Wheel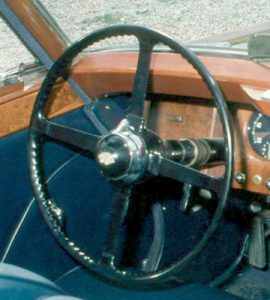 The steering wheel spokes should be at 3, 6, 9 and 12 o'clock when steering straight ahead. The car photographed in Plate A6 of the Service Manual should not be assumed to be steering straight.
The steering column telescoping assembly should have a chrome expanding coil sleeve and chrome capping rings.
Steering Wheel Horn Push
Pointed Horn Push
The steering wheel manette or horn push, should have the chrome turn indicator switch at the top. The Growler Head is silver in color.
Hardware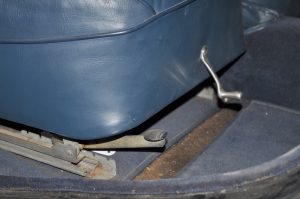 The Seat Reclining Crank is chrome plated, the front/back seat lever and seat rails are grey.
Trafficator or Turn Signal Knob
The trafficator or turn signal knob, as seen in the photo above, is a pointed knob located on top of the horn button's chrome ring.
Instruments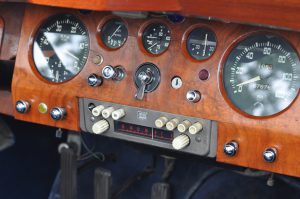 Instruments left to right
 Tachometer by SMITHS, counterclockwise dial, zero right, Red Line 4500 RPM to 5000 RPM, with built in clock,
 Petrol gauge by SMITHS
 Oil/Water combination gauge by SMITHS
 Ammeter, made by LUCAS
 Speedometer by SMITHS
 Amber TRF lens indicator for trafficator directional indicator
 Red IGN lens indicator for ignition and generator
 Green FAN lens indicator for heater fan

Other chrome plated control knobs are, from left:
 Heater water hot/cold tap valve
 Heater fan motor
 Fog lamps
 Cigar lighter (black Bakelite with owl eye that glows when held in)
 Main lighting switch
 Key ignition switch
 Starter button
 Wipers (above IGN light)
 Panel lights
 Interior and Map lights
All are shown in the Service Manual and Owner's Handbook. (SM, OMH)
The cigar lighter has a glass center which glows when held in.
The light switch knob is the boat rudder style.
Instruments had a minor upgrade from _____ to ______ part-way into the production run beginning with:
2½ litre SAL      chassis no. 520389-rhd and 527074-lhd
3½ litre SAL     chassis no. 621428-rhd and 627411-lhd
and all DHCs, delineated by a change in the suffix of the part number.
Speedometer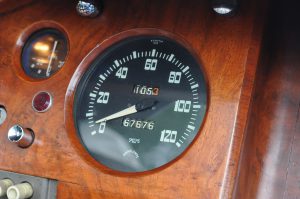 The 3.5 liter speedometer was changed from ____ to _____ at :
3½ SAL chassis no. 624516-rhd
3½ SAL chassis no. 628586-lhd
3½ DHC chassis no. 640082-rhd
3½ DHC chassis no. 647349-lhd
The speedometer may read in miles or kilometers.
Instruments have lettering in a squared off type of font, see Plate D10. (SM)
Need close up photo of instruments
On the early saloons, the instruments do not have internal lighting.
 Instrument Lighting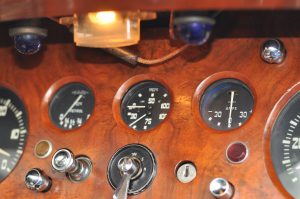 The instrument lights, mounted under the facia, have ultra-violet glass covers on them. These instrument lights are changed from four bulbs to two bulbs.
2½ SAL chassis no. 520388-rhd
2½ SAL chassis no. 527073-lhd
3½ SAL chassis no. 621427-rhd
3½ SAL chassis no. 627410-lhd
Need Photo of both the 4 bulb lights and 2 bulb lights 
There is also a map reading light in the center with a white plastic rectangular cover Plate D10.
Interior Lights
The saloon has two lights in the cloth covered trim panels at the rear corners
The DHC has a single light in the hood above the rear window. (SM)
Woodwork, Vinyl & Leather (except seats)
Headliner, Underside of Hood, Door Panels & Arm Rests
Door Jambs, Sills, Shut & Hinge Faces, Rubber Seals, & Wire Conduits
Carpets
→Hardware, Steering Wheel, & Instruments
Seats, Squabs & Belts
Home – Introduction – Operational Verification – Exterior – Interior – Boot – Engine